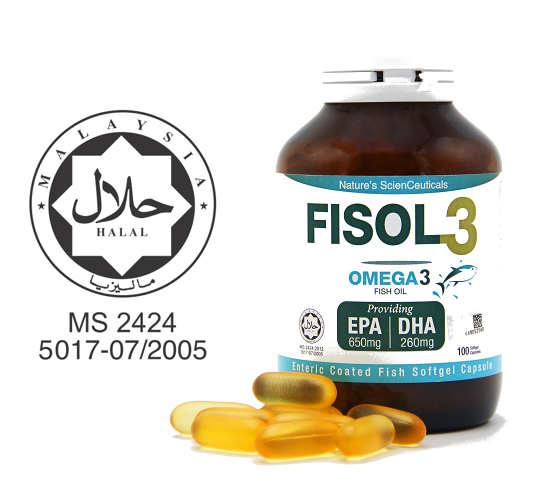 FISOL3 Omega-3 Fish Oil
FISOL3 is highly concentrated fish oil dietary supplement with more than 70% Omega-3 fatty acids, high potency especially on EPA (Eicosapentaenoic Acid). Compare this to regular strength 30-35% concentrated, and even double strength 60%, you can see how it would take many more capsules daily to equal the amount of Omega-3 fatty acids found in one serving of FISOL3 Triple Strength Omega-3 Fish Oil.
FISOL3 Gold Fish Oil
FISOL3 GOLD offers far higher EPA doses than standard oils, allowing production of smaller and fewer capsules while maintaining a superior EPA concentration. The proprietary PureMax purification process selectively concentrates key fatty acid active, EPA, while removing undesirable saturated and shorter chain fatty acids and impurities. FISOL3 GOLD promotes excellent purity levels and greater health benefits.
LOVACO10 Red Yeast Rice
LOVACO10 is safe and effective approach for Dyslipidemia. It contains high strength Red Yeast Rice Extract 1000mg with 9mg of monacolin-K. LOVACO10 has used a clinically studied strain called monascus purpureus Went and 50mg of Coenzyme Q10- CoQ10 is very important in heart and muscle health and in energy production. Not having enough Co-Q10 can cause fatigue, muscle aches and pains, and muscle damage.
GOUCH Tart Cherry
GOUCH is an all natural anti-inflammatory supplement which works fast and effective for gout relief . It's potent blend of joint supporting anti-oxidant nutrients: tart cherry and bromelain. Tart cherry is viewed as the natural source of antioxidants for good health. GOUCH support healthy uric acid levels to helps prevent future attacks and encourages a healthy inflammatory response which give a rapid relief in 24-72 hours.
OSCAL123 Calcium Milkplus
OSCAL123 is an innovative calcium supplement for healthy bones, specifically formulated with menaquinone 7 (Vitamin K2) and Vitamin D3 for optimal bone health. It contains a complete set of milk minerals for bone health. OSCAL123 is true calcium for stronger and healthier bone as one tablet of OSCAL123 is equivalent to 1 cup of milk.
OKRA Drink
OKRA DRINK with Green Tea & Barley Grass is an all-natural green goodness. It contains highest concentration of OKRA extract with 250mg of Isoquercetin to support healthy blood sugar. It is packed with natural antioxidants as it combines 3 green superfood. It is extracted with USonic technology which retains freshness and essential nutrients of the ingredients.
SAMBUVY Black Elderberry
SAMBUVY is made out of black elderberry juice. While various parts of the black elderberry plant is found to be beneficial in folk medicine, the berries especially are found to help strengthen the immune system and fight infections. Black elderberries are also high in nutrient and antioxidants.
YANGSON Premium Gift
YANGSON Premium Gift is the perfect gift for all occasions. Australian Wild Caught Stichopus Japonicus delivers an impressive amount of nutrients and beneficial compounds, Australian Dried Scallop adds a terrific rich umami depth to many dishes and Japanese Oita Shiitake Mushroom is rich in flavour.
NatureScience Products are Available Exclusively at Caring Pharmacy in Malaysia.
You may now buy online through Caring eStore – an easier purchase option for you with door-step delivery services.
We accept international purchases as we ship our products to worldwide countries.
International Purchase eStore
We ships according to courier company policy. Check out the international shipping rates during purchase checkout.