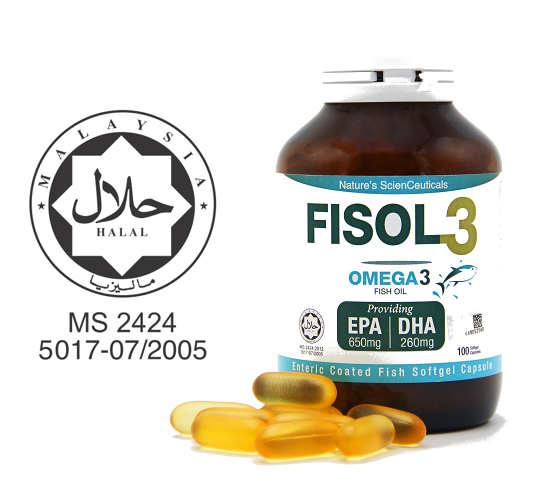 3X More Strength Than Regular Fish Oil
High Potency Especially on EPA
• 650mg EPA & 260mg DHA per softgel
Ultra Pure Fish Oil
• Free of impurities
Burp Free Coating
• Odourless and increase absorption of Omega-3
Fish Gelatin Encapsulation
• Marine-based soft gel
What Makes Triple Strength Fish Oil?
More EPA Inside, Faster Results in Lesser Softgels!
FISOL3 is highly concentrated dietary supplement with more than 70% Omega-3 fatty acids providing total 910mg of Omega-3 per softgel; high potency especially on 650mg of EPA (Eicosapentaenoic Acid) and 250mg of DHA (Docosahexaenoic Acid).
Compare this to regular strength 30-35% concentrated, and even double strength 60%, you can see how it would take many more capsules daily to equal the amount of Omega-3 fatty acids found in one serving of FISOL3 fish oil.
Trusted by Professionals. Preferred by Consumers.
FISOL3 is a pharmaceutical grade fish oil concentrate that is guaranteed for purity and safety from environmental pollutants like PCBs and mercury. It is molecularly distilled to remove mercury and other harmful contaminants while the softgel is specially coated to prevent fish burps, odor and aftertaste.
FISOL3 fish oil is a proudly product of New Zealand.
Each softgel formula contains 1300mg fish oil, providing total 910mg of Omega-3 fatty acids:
EPA (Eicosapentaenoic Acid) – 650mg
DHA (Docosahexaenoic Acid) – 260mg
As a dietary supplement for adults, take one (1) softgel daily, preferably with a meal, or as directed by a healthcare practitioner.
Fish oil (Sardinopssagax & EngraulisRingens)
Fish gelatin
Natural mixed tocopherols
Fish (Anchovy, Sardine)
FREE OF
Gluten, wheat, dairy, yeast, sugar, sodium, artificial flavor, sweetener, preservatives and color.
How Omega-3 Benefit Your Body
All you need is one serving of FISOL3 fish oil per day.
FISOL3 fish oil has the highest concentration of the natural, Omega-3 polyunsaturates EPA and DHA from cold-water fish. Each softgel provides 910mg of total Omega-3 fatty acids (650 mg of EPA and 260 mg of DHA ).
Health Information You Need to Know
If you are pregnant or nursing, taking medication, facing surgery, have bleeding problems, or undergoing any other treatment which may affect the ability of blood to clot, consult your physician before taking this product.
Given that no two people are alike, if you are taking any medications you should be aware that potential drug-nutrient interactions may occur and are encouraged to consult a health care professional before using this product. Combining certain prescription drugs and dietary supplements can lead to undesirable effects such as:

Diminished drug effectiveness
Reduced supplement effectiveness
Impaired drug and/or supplement absorption

Keep out of reach of children.
Store in a cool, dry place.
Do not use if bottle seal is missing, torn or damaged in any way.
Fish Oil should be used with caution when combined with:
Blood thinning medication (e.g. Warfarin and Coumadin)
Nonsteroidal anti-inflammatory drugs (e.g. ibuprofen and aspirin)
Blood pressure medication
FISOL3 Omega-3 Fish Oil is Available Exclusively at Caring Pharmacy in Malaysia.
Find out more about Caring Pharmacy stores that near to you or buy online through the Caring eStore with door-step delivery services.
We accept international purchases as we ship our products to worldwide countries. Please contact us for more details.